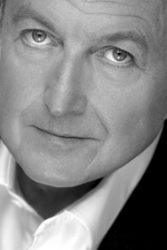 Michael Horowitz, photographer, journalist, writer and publisher. Author of biographies amongst others about Heimito von Doderer, Karl Kraus, H.C. Artmann, Helmut Qualtinger und Leonard Bernstein. Numerous national and international awards such as the "Große Ehrenzeichen für Verdienste um die Republik Österreich" and the "Ehrenkreuz für Wissenschaft und Kunst 1. Klasse", the "Prix de la Jeunesse" at the filmfestival in Cannes for the script "Caracas".

His photographical work was shown latest at the Jewish Museum Vienna in 2017, as well during the EXPO Hannocer, the Salzburger Festival and the "steirischen herbst". In December 2020 there will be a exhibition in the Albertina Vienna on the occasion of his 70th birthday.

His book Menschenbilder is available by AnzenbergerGallery bookshop.
> Interview with Michael Horowitz on occasion of the exhibition at the AnzenbergerGallery in 2010.