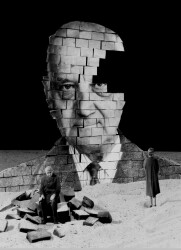 Gilbert Garcin was born in 1929 in La Ciotat, near Marseilles. After graduating in Economics, he runs a company specialized in apartment lighting. In the early ninetees, when he retired, he became a passionate hobby photographer, pooling with other enthusiasts in several associations. He won a photography prize which allowed him to attend a workshop driven by photographers Pascal Dolémieux, Michel Séméniako and Arnaud Claass, in the frame of the Rencontres Internationales in Arles. On that occasion, Garcin came into contact with the photomontage.
Then he started exploring the potential of transforming this approach into his form of privileged expression, a distinctive feature of his work. He began to photograph himself in ordinary clothes, as a lone figure, a bit shabby-looking and slightly absent, as if absorbed in thought. Thus was born a character (sometimes called Mister G.) played by Gilbert Garcin, through which he scours with surreal juxtapositions the mysteries of human existence. From 1999, most of Gilbert's photographies also included his wife Monique, as a willing contributor to allegorize the ups and downs of life together.
Over the last twenty years, Gilbert Garcin has published several books and participated in a large number of exhibitions driven by the desire to share with a wider audience his views on life and the world. His works have been exhibited all over the world and are represented in numerous collections, public and private, among which those of Maison Européenne de la Photographie (Paris), Fonds National pour l'Art Contemporain (Paris), Veendam Artotheque (Netherlands), West Collection (Philadelphia) and Titze Collection (Vienna).