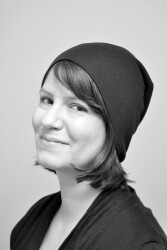 Janina Simone Kulcsar was born in Bonn/Germany in 1978. She holds a design degree from the University of Art and Design Offenbach. Since her abroad studies in the USA in 2004 she chose to dedicate her life to photography. Her work reflects inner thoughts and emotions and her individual view at the world. Every phase of her life led to different photographic series with different forms of photographic expression. The visual style resulting from this approach varies between abstract and experimental.

In 2004 she received an art scholarship from the German Academic Exchange Service for abroad studies in the USA.

In 2010 she got shortlisted at the Sony World Photography Awards in the category: Professional Fine Art "Conceptual and Constructed".

In 2014 she receives the scholarship Artist Programme Ruhr by the Alfred und Cläre Pott-Stiftung.