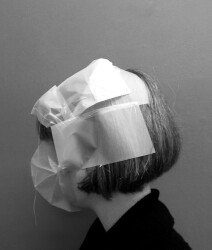 Photography, performance and a needle are central to Jessa's practice. She uses the body-as-site to explore communal meanings and is concerned with making explicit the moment when performed gesture and gaze of the viewer collide. She frequently appears in her own images, piercing and embroidering them to employ process as action. Needle perforations and thread puncture the skin of the photograph, extending image-objects beyond a single time and space. Things embody feelings and the body is a material, where experience can manifest itself through stitches.
She completed an MA in Photographic Studies from the University of Westminster (2008-10) and developed her practice while working as both lecturer and journalist. Jessa started out concentrating on acting, describing this as the source of her interest in using personal experience to activate transactions between observer and observed.
In 2016 she produced the body of work "Conversations with my mother" as a limited edition Artist Book. The delicate hand-marked volume with unique perforations is held in various collections including Yale Center for British Art (New Haven, US) and libraries at the Tate (London, UK) the Victoria and Albert Museum (London, UK) and the Museum of Fine Arts Houston (US).
Jessa lives and works in Bristol, UK.