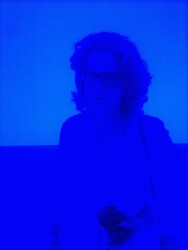 Born in New York in 1956, Rita Maas received her BFA in Photographic Studies from the School of Visual Arts in 1981. Shortly thereafter she established a successful commercial studio in New York, NY shooting award winning campaigns for major advertising and editorial clients. She earned her MFA in Visual Arts at Lesley University College of Art and Design in 2013.
Maas' fine art work has been awarded numerous honors and has been included in several notable exhibitions. Works from Residual Ink Drawings were selected for the exhibition Trace, Copy, Render at Circuit Gallery in Toronto Canada in the Fall of 2016. In 2010 Maas was named by Rebecca Senf as one of "The Ten Most Exciting Photographers I Learned About This Year," and was invited in 2015 by Senf to exhibit works at the Norton Gallery at Phoenix Art Museum. Her work also earned awards in the exhibits Photography 15, Poughkeepsie NY and Abstract at Filter Photo Space, Chicago IL in 2015.
Maas has had solo exhibitions at the Griffin Museum of Photography; Columbia University, New York and The University of the Arts, Philadelphia. Selected group exhibits include Silver Eye Center for Photography; Chelsea Art Museum, New York, and Museum of Fine Arts Houston.
Maas' work is held in the collections of Museum of Fine Arts, Houston, Lishui Museum of Photography in Lishui, China and the Griffin Museum of Photography in Winchester, MA.
Maas will be acting as Visiting Assistant Professor at Rochester Institute of Technology for the 2016-2017 terms. She most recently served as Visiting Artist and Adjunct Professor at College of Staten Island, CUNY.