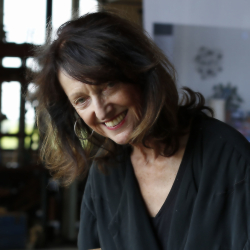 Ellen Korth was born in The Haque/Netherlands. She studied at the Hochschule für Gestaltung in Basel. She has been working since 1971 in Germany and the Netherlands. Exhibitions in Austria, Hungary, Italy, Netherlands and Germany.
Books
2021 WALKS (selfpublished))
2019 The Rustle of Touch (selfpublished)
2018 The Fabric of Time (selfpublished)
2016 Charkow (selfpublished)
2015 Paradise (selfpublished)
2014 JA.NU! (selfpublished)
2013 HERE AND THERE (The Doc uitgeverij Zutphen)
2012 Utilite (selfpublished)
2008 Beauty is in the eye of the beholder (De Jonge Hond uitgeverij Harderwijk NL)
2007 KATA (selfpublished)
2004 NU01 (Schaden Verlag Cologne/Germany)
Group exhibitions
2021 PHOTO BASEL
2018 Museum NoHero Delden
2013 Museum Boymans van Beuningen Rotterdam/NL
2005 Kunsthal Almelo/NL
2005 Kunstverein Mainz/Germany
2005 Netherlands Japan EU /Year Nijmegen
2004 Stadtische Gallery Nordhorn/Germany
Solo Exhibitions
2022 EICAS Museum Deventer / Netherlands
2022 German Textil Museum Krefeld
2021 Anzenberger Gallery
2021 Buch presentation WALKS //EICAS MUSEUM Deventer/Netherlands
2021 Bookpresentation DTM Krefeld / Germany
2018 Kasteel Twickel Ambt Delden/Netherlands // The Fabric of Time
2017 Leipzig Book Art Fair /Presentation and Interview/Radio Mephisto/Leipzig
2016 Gallery DAT BOLWERCK Zutphen Netherlands presentation and installation
CHARKOW
2016 Kunstverein Grafschaft Bentheim/Neuenhaus //CHARKOW
2016 Vienna Photobook Festival Presentation CHARKOW
2016 Offprint London Presentation CHARKOW
2016 Paris Photo Presentation CHARKOW
2015 Gallery Koschmieder Berlin Bookpresentation Photobookproject Jorinde
2014 Kunstverein Grafschaft Bentheim Presentation Photobookprojekt JA.NU
2014 UNSEEN Amsterdam Presentation Photobookproject Jorinde
2013 25books Berlin/Germany Presentation/Installation Photobook Utilite
2013 Landesmuseum Bocholt Installation Utilite
2012 Stedelijk Museum Zwolle /Utilite
2011 Gallery Agnes Raben//Photograpy exposition//Utilite
2011 Museum Bergkerk Installation Utilite
2008 Kunsthal Almelo ( Beauty is in the eye of the beholder)
2007 Kunstverein Grafschaft Bentheim/ Stil life)
2005 Forum Art und Architecture Essen/Germany
2004 Staedtische Gallery Nordhorn/Germany
2002 Tuchmachermuseum Bramsche/Germany
1996 Kunstverein Cuxhaven
1995 Gallery 42 Oldenburg/Germany
1995 Artefact Gallery Bad Oeyenhausen/Germany
1990 Museum Settima Rassengna Como Italy.
Prizes/Nominations
2016 CHARKOW first prize PhotoBook Independent/Los Angeles
2016 CHARKOW nominated ADCN price
2016 CHARKOW one of the faorite books of the year //Lens Culture
2013 Utilite/ silver medal Best Book Design all over the world
2012 Utilite / award Aperture New York
2012 Utilite/ Best Book Design Netherlands
2002 Kunstverein Bremerhaven/Germany
2000 99 Standpunkte Expo 2000 Kulturstiftung Hannover/Germany
2000 Miniatur Textilskulptur Szombathelyi Keptar/Hungary
Collections
2021 all books have been aquired by the Royal Library of The Haque/Netherlands
CHARKOW // JORINDE // THE FABRIC OF TIME // Museo San Telmo //Spain
Gabriela Cendoya Bergareche Collection
Photobook Utilite // Rijksmuseum Amsterdam//Netherlands
Photobook Charkow // Deutsche Nationalbibliothek Leipzig
Museum for Buchdruckkunst Leipzig
Bibliothek for Buchdruckkunst Halle