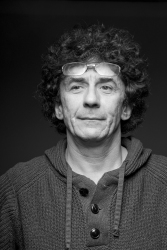 Paweł Żak, born 1965, studied social sciences at the Warsaw University. Graduated from Academy of Fine Arts in Poznan in 2002. Member of the Union of Polish Art Photographers since 1995. Since
2001 he works also as a lecturer of photography.

Major projects: "Tales", "Untitled", "A Close Acquaintance". Recent works is a series of a large format staged symbolic still life called "Sweet Monday and Other Still Life".

His works are in collections of National Museum in Warsaw, Centre for Contemporary Art in Warsaw, Museum of Art in Lodz, Bibliotheque Nationale de France in Paris, and in number of private collections in Poland, France, Norway, Denmark, The Netherlands, Belgium, Great Britain, Canada and USA.