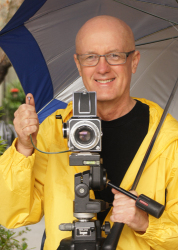 Phillip Jones studied with Gene Davis, the Washington Color School artist, in high school. He then studied at the Corcoran School of Art, Antioch College, and Cooper Union, and exhibited his paintings. In 1970s New York City, he worked in television, set design, and medical illustration while continuing to exhibit his work.

By the late 1980s, after moving to Charlottesville, VA, Jones split his time between painting, illustration, and photography. After moving to Boston in 1990, Jones began to exhibit his photographic work. Since then, he's exhibited at the deCordova Museum, the Fuller Museum, the Lafayette Museum, the Hunter Museum, the Boston Athenaeum, the Boston Public Library, the Boston Center for the Arts, the Federal Reserve Gallery, the Cesium Gallery, and Chatham Gallery, with fourteen solo exhibits at his primary venue, the Mercury Gallery.

His work is included in numerous collections including the deCordova Museum, the Boston Athenaeum, the Boston Public Library, Pfizer, Fidelity Investments, Putnam Investments, Accenture, Banana Republic, Levi Strauss, Raytheon, Goldman Sachs, and The Four Seasons. He currently splits his time between Boston and Atlanta.