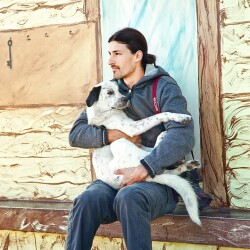 Toni Anzenberger was born in Vienna/Austria. Since 1989, he has been in close contact with the Anzenberger Agency founded by his sister Regina Maria. This led to reportages in magazines such as Geo, VSD, El Pais, La Repubblica, Independent, National Geographic, as well as commissions for The New York Times, People Magazine, Der Spiegel, Stern, Focus etc.

His photographic essay Orange Battle in Ivrea/Italy was shown during the international photo-journalism festival Visa pour l'Image in Perpignan. His reportages on adrenalin sports like speed skiing, speed biking, canyoning and hydrospeed enjoyed wide international distribution. His pictures of the italian region Tuscany were selected for the international CANON Calendar. Between 2002 and 2016, he created 38 coffee table books on Austrian and Italian regions for Mairdumont, arsvivendi, Styria, Tyrolia and Anton Pustet publishers.

He made an acquaintance of great consequence in 1998: In Italy, the dog Pecorino (www.pecorino.at) came into his life. So far, the resulting reportages have been published in more than 30 countries and shown in the Leica Gallery in New York, Vienna's Palais Palffy and Barcelona. The 12th Pecorino book with the title - Pecorino, Die Reisen eines Promenadenmischlings –has been published in October 2015 by Fred & Otto Verlag/Berlin and the 14th calendar was released for the year 2014 by ars vivendi verlag - one of them received an award from the International Calendar Show in Stuttgart.