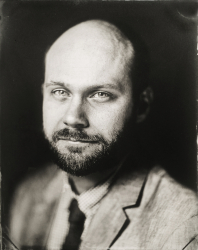 John Cyr (b. 1981) is a New York based photographer and Assistant Professor of Photographic Imaging at Suffolk
County Community College. Cyr earned his MFA from the School of Visual Arts in 2010 and his work has been
featured in various publications including the New York Times, BBC News, ARTnews, TIME, NPR, Popular
Photography, the Telegraph and Photo District News and is the author of the powerHouse published
monograph, Developer Trays. Cyr's photography is represented in many notable public and private collections
including: George Eastman House International Museum of Photography, Rochester, New York; The Photographic
History Collection at the Smithsonian's National Museum of American History, Washington D.C.; and The New
York Public Library, New York, New York.