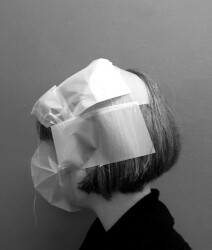 Jessa Fairbrother explores the familiar and the personal, where yearning and performance meet each other in photography.
After a degree in English, studying at drama school, working as a journalist and lecturing in photography, she completed an MA in Photographic Studies from the University of Westminster in 2010.
These varied experiences informed her shift towards increasingly interdisciplinary work, slowly moving from enactment within the photograph to performing on the photograph's surface after the event. The purpose of thread, mark-making and stitch are central, physically piercing and extending the image-object beyond a single time and space.
Recurring behaviours shaped by memory, role-play and visual consumption underpin her long-term projects, concentrating on shared understanding and it's influence on emotional life.
Awards include the GRAIN Portfolio Award at Format Festival (2017); a travel bursary from a-n The Artist Information Company, UK (2016), the Genesis Imaging Award, Format Festival, UK (2013) and honourable mentions from PX3, Paris (2014) and Flash Forward, Canada (2009). Her work is held in Yale Center for British Art, New Haven, the National Art Library at the Victoria and Albert Museum, London, the Hirsch Library at the Museum of Fine Arts, Houston, the permanent collection of the NHS, UK, and numerous private collections.